Many believe entering a burning building poses the most significant life-threatening risk to a firefighter. It does not. Cancer claims the lives of more firefighters than any other job-related threat. Cancer rates among urban firefighters are 10-15% higher than the general population, according to the CDC/National Institute for Occupational Health and Safety. Cities such as Boston, New York, Chicago and San Francisco have been implementing new protocols to protect their first responders from the toxins in burning buildings above standard issue SCBA (self-contained breathing apparatus). By keeping abreast of what larger fire stations are doing to protect the health of their staff, we can begin to educate smaller and more rural departments while developing strategies to right-size solutions to their often smaller budgets. 
Shortly after the horrible attacks of 9/11, firefighters exposed to the smoke and dust created by the fall of the World Trade Center towers began experiencing health issues, including various forms of cancer.  We know now that all firefighters are exposed to toxic smoke and dust on a regular basis on the job. The increased use of synthetic materials in consumer goods has only increased the carcinogens in burning buildings. Particulate from the smoke and dust cling to firefighters' turnout gear (hat, coat, pants, gloves and boots) as soon as they arrive on the scene, which they then carry back to the firehouse.
This near epidemic affects all firefighters, and research shows that the risk is extended to family members when transporting contaminated turnout gear in personal vehicles or storing it at home. Larger urban departments learned long ago that cleaning turnout gear and keeping it at the station greatly reduces health risks to firefighters and their families. To address the risk, they started adding decontamination facilities to their stations years ago.
Recently, more and more small rural departments have been doing the same. However, these stations are often in small buildings with aging infrastructure. Finding room to add a decontamination space, turnout gear storage and showers is only sometimes feasible, forcing municipalities to construct new, more modern stations.  

Michael Petrovick Architects has been working with small and rural stations to address these challenges. We designed a new fire station for the Town of Westmoreland. The town of 1600 residents has been using its fire station since 1953. The building was essentially a garage with a meeting space on the second floor. Fire trucks needed to be custom ordered to fit through the limited height bay doors and there was insufficient apron space to park apparatus outside with the bay doors closed.  
The new station provides spaces to facilitate decontamination, including a decontamination area where turnout gear is cleaned, a locker room with a shower room for personal decontamination and turnout gear storage away from the apparatus bays. Keeping storage separate from apparatus bays helps eliminate re-exposure to toxins from the trucks' diesel fumes when dispatching to an event. The new design also addresses accessibility issues and provides ample storage for apparatus and equipment with space to maneuver on the site.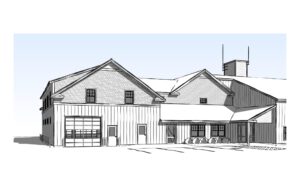 Our design for expanding a fire station in Walpole, NH provides an expanded EMS facility with decontamination facilities for both EMS and fire fighting staff. Expanding the facility was the only way to meet the decontamination requirements for EMS vehicles, equipment and personnel. The recently commissioned Cheshire County EMS facility designed by MPA also incorporates decontamination spaces for uniforms and equipment.  
We are in the early phases of working with two other rural communities to evaluate their existing fire stations and consider expanding them or constructing new facilities to accommodate decontamination operations. The priority needs to be the health and safety of our first responders and their families. The equipment used by firefighters has changed and increased, requiring larger fire stations. Climate change has increased the intensity of storms invoking emergency operations more often, making implementing measures to protect firefighters even more critical.  
With 69% of firefighters being volunteers, recruiting and retaining new members is increasingly challenging. Well-equipped departments addressing the industry's health and safety concerns find it easier to attract and retain new members, and it's one more reason to start incorporating these life-saving spaces into your fire station.